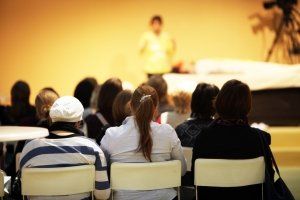 AusIDentities is on the way to becoming a household name throughout Australia and is already being used in hundreds of schools, along with business organisations, universities and educational institutions, and literally thousands of people, of all ages and from all walks of life, who have attended one of our training programs.
In our efforts to reach an even wider audience, AusIDentities is now looking to partner with schools and organisations to deliver our workshops and seminars, at both a national and international level, for little or no cost to you as the 'Host Venue'.
If you are prepared to help us promote an AusIDentities workshop or seminar to other schools and/or organisations in your region, a trained AusIDentities facilitator will travel to you at no cost and run any one of our training programs, which are then free* to attend for all of your staff, colleagues and friends.
This represents a fantastic opportunity for anyone interested in accessing the wealth of knowledge and information offered through the AusIDentities programs, and even includes our flagship, 2-day 'Practitioner Training Program'.**
As an additional bonus, we also offer 'Host Venues' resource packages worth hundreds dollars if the number of paying participants exceeds the minimum numbers required. To discuss the training opportunities available to you, and how you can access free workshops and training for you and your staff, friends or family,  simply enter your details in the form below.
(*) Provided we are able to attract a pre-determined minimum number of paying participants.
(**) Our premier training program providing participants with the foundational knowledge required to deliver the AusIDentities program in their own school or place of work.
"AusIDentities has provided us with an effective tool that is simple to use & can quickly & accurately identify personality types, understand behavioural responses & recognise the learning styles of students… we have been able to select the most appropriate teaching strategies & classroom organisation to maximise student engagement in the learning process. AusIDentities will revolutionise the way teachers view the learner & the way schools respond to student learning needs."
Click here to add your own text