Training For Schools and Educational Organisations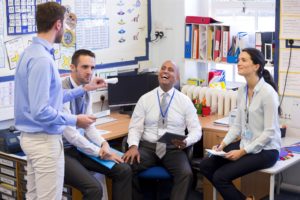 Help improve performance, address unwanted behaviour and build better relationships.  AusIDentities has been introduced to hundreds of Schools and Community Groups, and we have over ten-years experience of working with the Job-Network and Private Training Providers.
Personalities in the Classroom
One-day program:
Identify personalities in the classroom and learn new teaching strategies
Inclusive learning environments
Effective classroom management
Suited to anyone involved in education, not just classroom teachers as the content is just as relevant when working with adults or with primary school students. This is our most popular program for educators, especially for pupil-free days as it is fun, lively and dynamic.
Book Now
Dealing with Unwanted Behaviour
One day program:
A revolutionary new approach to dealing with inappropriate behaviour, both in the classroom and in the broader workplace
Behaviour management strategies through an understanding of different personalities
'Games People Play' is for teachers, trainers, counsellors, guidance officers, facilitators and anyone else who is looking how to deal effectively with inappropriate behaviour.
Book Now
Career Path Indicator
Half-day Workshop:
Choose the right career path for your type
Help others realise their potential
Students in grades 10-12 and adults have a chance to identify suitable career paths, removing much of the guess work about what sort of jobs they might be suited to.
Book Now
Effective Communication Skills
Half or Full-Day program:
Get clear about how to get your point across
Understand what others are saying
Communication breakdown is one of the single biggest issues facing teams today. When you get it right, you automatically improve your outcomes, both at home and in the classroom.
Book Now
QUOTE: "AusIDentities has provided us with an effective tool that is simple to use & can quickly & accurately identify personality types, understand behavioural responses & recognise the learning styles of students… we have been able to select the most appropriate teaching strategies & classroom organisation to maximise student engagement in the learning process. Aus IDentities will revolutionise the way teachers view the learner & the way schools respond to student learning needs."